Through PE and school sport, children can develop values of:
In order to deliver a rich, captivating PE curriculum the following key principles are essential to our implementation
At Huntingdon Academy we believe that physical activity is essential to leading a healthy lifestyle, thus throughout the day there are a variety of opportunities for our pupils to be active such as:
. The walk to school campaign
. The daily mile
. Lunchtime and breaktime sports clubs
. Afterschool sports clubs
The P.E. curriculum
At Huntingdon Academy, we promote and support the importance of a healthy lifestyle and place a particular emphasis on the well-being of our pupils. Our curriculum gives pupils the opportunity to develop an understanding of the positive impact of physical activity upon their lives. We support and inspire all of our pupils to lead a healthy lifestyle.
We aim to inspire all of our pupils to succeed and excel in competitive sport, consequently all pupils at Huntingdon Academy have the opportunity to compete in a wide range of sporting competitions. We believe that opportunities to compete in sport build character and help to embed values such as fairness and respect. Furthermore, sporting experiences also support our pupils to develop their communication, collaboration, thinking and listening skills. We strive to ensure that the subject specific vocabulary and terminology required within Physical Education runs through all lessons and believe that this is a key element in developing children's understanding of their bodies and health.
At Huntingdon Academy we celebrate all sporting achievements. Every term the sports ambassadors lead a sports achievement assembly. This provides us with the opportunity to celebrate all the sporting success our pupils have achieved in that term.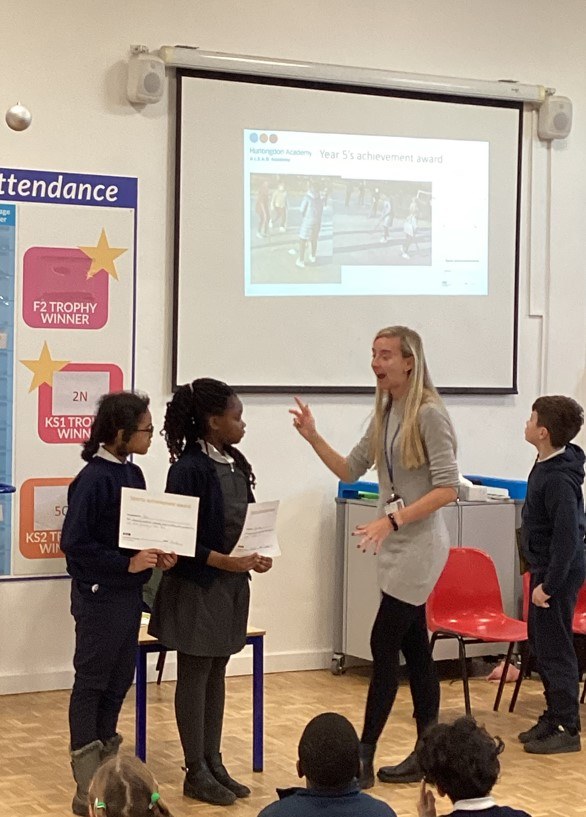 Downloadable Parent Confirmation Slip